Allie and I had the opportunity to cater a birthday party.  She and I had a lot of laughs, the food was terrific and the guests were delightful. There is nothing sweeter in my life than to have my girls share in the love I have for entertaining. Now, I know it may not be their passion, and they may not follow in my footsteps but for the rare occasion that they do work with me, I absolutely savor it. Now, I am always open to the idea that they will go do some job/soul searching and maybe, just maybe, find there way back to the kitchen with me.
Allie is 21 now and an amazing woman. But, don't get me wrong — we can get into it. Brendan and I have brought up a very strong woman. That is wonderful until, well, I can't control what she does anymore. But, I remind myself, trust that she is doing her very best. Making space for Allie to be Allie is the greatest gift I can give to her and myself as a mom. At one point at the event, I told her to go mingle because she was just standing around in the kitchen. She looked at me like I had two heads and said "no, this isn't my house or party!" We paused and laughed out loud. She was correct, it wasn't her party but it is my desire to help people feel welcomed and more comfortable. Socializing can be hard sometimes. It is my first response to want to make people feel good. This is why I do what I do. I love making people feel good.
Oh man can that back fire on me. When I can't help others to feel good, I can start to feel bad about myself. When I feel unliked or there is just a curmudgeon of a person that a sweet polar bear wouldn't bring a smile to, I can take it so personally. That's baloney and a big fat lesson. It will be my lesson for life to let people's unhappiness not be my problem. I spent a LOT of money on my therapist to teach me one single phrase — "NOT. MY. PROBLEM.". Not everyone will like me, and I will not like everyone. However, everyone does have to eat! And maybe a person won't like me, but usually, and not always, but most of the time, everyone likes my food.
One of my go to dishes is a vegetable orzo salad that I picked up from Ina Garten's cookbook Parties . I like this recipe not only because of its great taste but also because of the convenience of making it the day before.
I have omitted and added some of my own flare to this recipe which you can do as well.  If you don't like eggplant, add more bell pepper or grape tomatoes. It will cook just the same.  I make sure to use a sheep's milk feta because it digests better for me than cow's milk and tastes fabulous.
This recipe is not only great for large gatherings but also perfect for picnics.  Thank you Barfoot Contessa.  This recipe is a keeper and sure to bring most everyone a smile.  

Ingredients

1 eggplant peeled and cubed into 1 inch pieces
1 red bell pepper 1 inch pieces
1 yellow bell pepper 1 inch pieces
1 purple onion 1 inch pieces
2 large cloves of garlic minced
⅓ cup good olive oil
1 1/2 teaspoons kosher salt
1 teaspoon pepper
1 lb orzo
4 scallions sliced
1lb good sheep's milk feta diced
20 fresh basil leaves, cut into chiffonade

For dressing
½ cup lemon juice
½ cup good olive oil
1 teaspoon salt
½ teaspoon pepper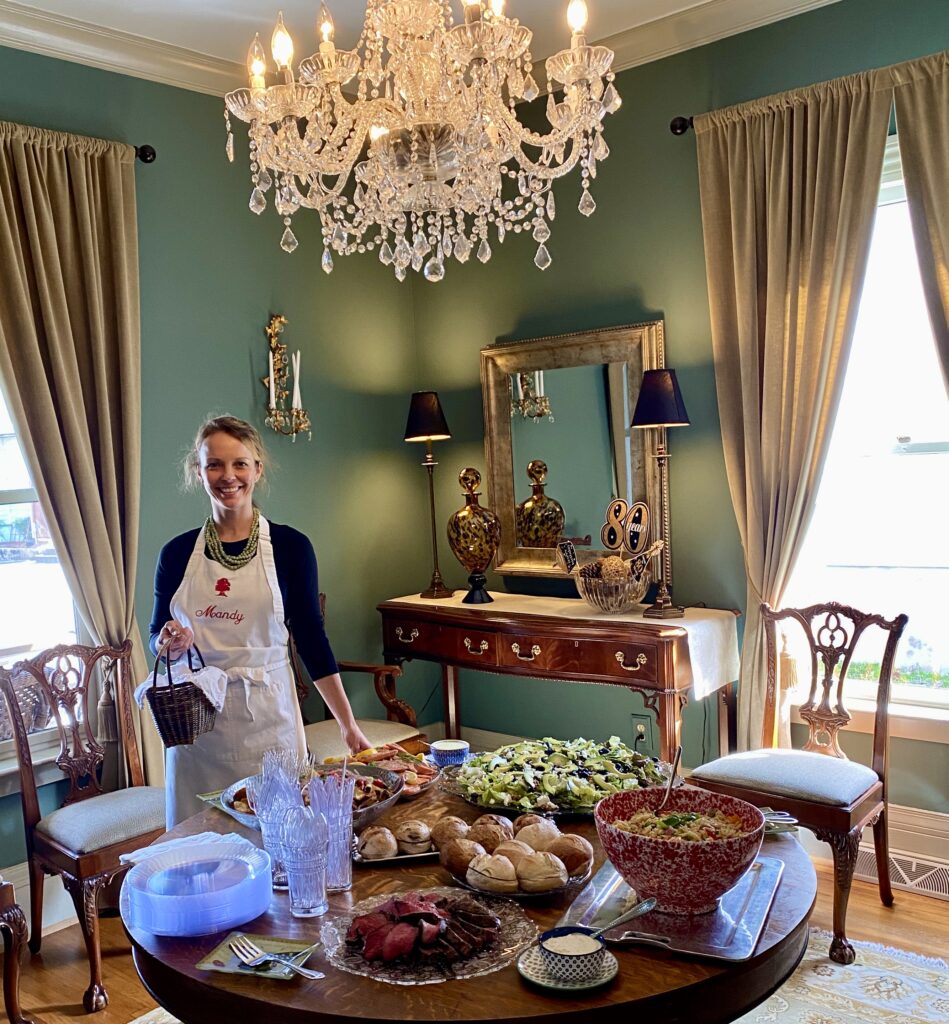 Directions

Roast your top five veggies on a large rimmed baking sheet with olive oil, salt and pepper in a 425 degree (Fahrenheit) oven for 40 minutes stirring once.  
Boil orzo while veggies are roasting, using directions on package. Place drained orzo in a large bowl.
When veggies are roasted add them to the orzo bowl along with any juices from pan.
Mix all your ingredients for the dressing in a small seperate bowl. Add this to the orzo mixture and allow to cool.
Add scallions, feta and basil. Taste for seasoning and add more salt and pepper if needed. This makes a big bowl and can serve 10 as a large side.